Divided by Faith
June 19th, 2014 | John Chandler
This past Sunday, we discussed the how we can have peace because Jesus is teaching us to share. Our passage has some serious implications on how we interact with each other and those of other races.
In 2001, sociologists Michael Emerson and Christian Smith released the groundbreaking book Divided by Faith: Evangelical Religion and the Problem of Race in America. Here's the publisher's description: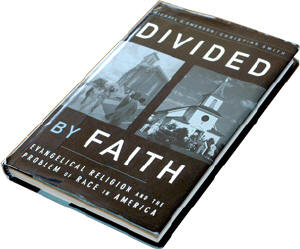 Through a nationwide telephone survey of 2,000 people and an additional 200 face-to-face interviews, Michael O. Emerson and Christian Smith probed the grassroots of white evangelical America. They found that despite recent efforts by the movement's leaders to address the problem of racial discrimination, evangelicals themselves seem to be preserving America's racial chasm. In fact, most white evangelicals see no systematic discrimination against blacks. But the authors contend that it is not active racism that prevents evangelicals from recognizing ongoing problems in American society. Instead, it is the evangelical movement's emphasis on individualism, free will, and personal relationships that makes invisible the pervasive injustice that perpetuates racial inequality. Most racial problems, the subjects told the authors, can be solved by the repentance and conversion of the sinful individuals at fault.
Combining a substantial body of evidence with sophisticated analysis and interpretation, the authors throw sharp light on the oldest American dilemma. In the end, they conclude that despite the best intentions of evangelical leaders and some positive trends, real racial reconciliation remains far over the horizon.
It's hard to know exactly how we can address this issue in our church community. But we do know that in Christ, we are all reconciled to God and to each other.
This book, and others like it will help us think through how we might embrace the different identities we find in North/Central Austin.